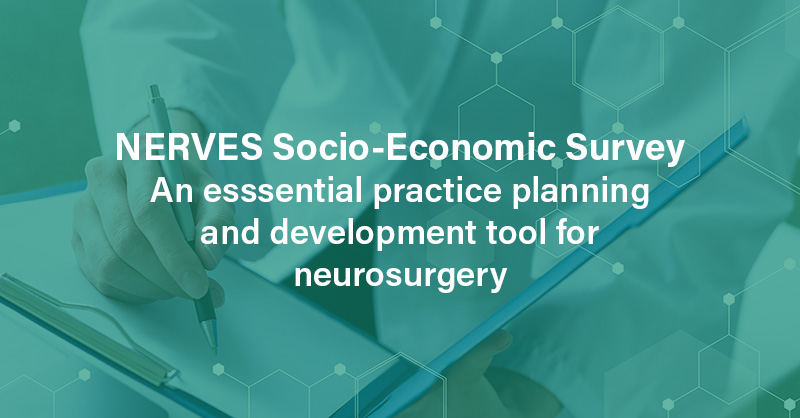 NERVES is pleased to announce the release of the Socio-Economic survey. This data, collected from 2020 practice metrics, is designed to provide general benchmarking data to neurosurgery practices. Historically, surveys prepared by other national organizations have not resulted in relevant benchmarking statistics for neurosurgery practices.
Historically, surveys prepared by other national organizations have not resulted in relevant benchmarking statistics for neurosurgery practices. Our goal is to provide useful data regarding total practice statistics as well as provider production, compensations, operating costs, and support staff specific to neurosurgery practices and related specialties.
Our 2021 Socio-Economic Survey is available and was distributed to those who participated electronically. For those wishing to purchase the 2021 survey, based on 2020 data, please click on the link below do so. Practice Administrators will be sent the electronic version and consultants or affiliate partners will be mailed a printed report.
NERVES members can purchase the Survey for $2,000; non-members for $2,500.
---
2022 Socio-Economic Survey
The NERVES Survey Report continues to be the preeminent resource for neurosurgical practice data. Your participation is what drives the relevance of the Survey. If you participated last year, thank you for your past contribution and we are hopeful that you will continue in 2022. If you were unable to participate last year, please join your colleagues by committing to do so this year. The more participants, the better the data, so we need you!
 
NEW joint NERVES & SNIS NeuroInterventional Survey Report
In addition to the annual NERVES Survey, this year the Survey Committee will be producing a new separate survey report in conjunction with the Society of NeuroInterventional Surgery (SNIS), specific to Neurosurgeons, Neurologists, and Radiologists specializing in neurointerventional procedures. This new, separate, abbreviated survey will be sent along with the NERVES Survey to collect information for the "Joint NERVES and SNIS 2022 NeuroInterventional Physician Compensation and Productivity Survey".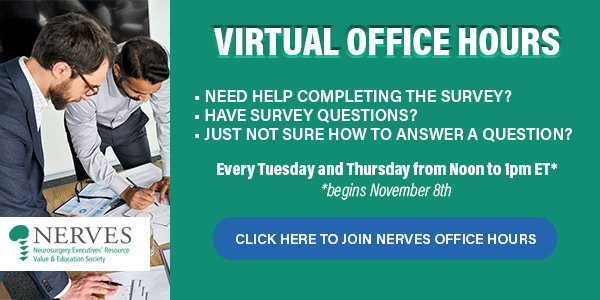 Members of both NERVES and SNIS desire to create benchmarking data such as salary, wRVUs, and call pay for physicians in their practices who focus on neurointerventional work. We need everyone with neurointerventionalists to join together and complete this simple new survey. We may expand the survey in future years, but in this kick-off year, what we really need is a large number of participants. We limited the number of questions and the complexity in hopes that everyone will participate.
The 
Joint NERVES and SNIS 2022 NeuroInterventional Survey Report
 will be available at no charge to NERVES and SNIS members who complete this joint NeuroInterventional Survey and available for purchase for those who do not submit their data for the joint NeuroInterventional Survey.
Neurosurgery practices that employ Neurointerventionalists should report data for those providers for 

both

 the NERVES Survey and the NeuroInterventional Survey.
---
2021 Survey Table of Contents
(

Click here)

The NERVES Socio-Economic survey was developed by members of the NERVES board and the healthcare consulting and accounting firm of Katz, Sapper & Miller. The Survey is conducted each year and results are based upon completed questionnaires received from neurosurgery practices from around the nation. Utilizing an independent accounting firm (KSM) assures the survey data input remains confidential and is managed and published in compliance with the Federal Trade Commission requirements.