Summer 2023 President's Letter
Dear NERVES Members,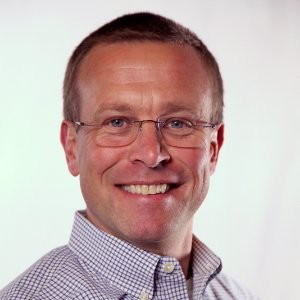 Greetings from Indianapolis! I am John Moeller and I started my term as NERVES President in April after our Annual Meeting. Luckly, I have had the pleasure of meeting many of you during my nearly 20 years of NERVES membership, but for those I have not met - I hope to meet you this next year! Quick background - I spent 18 years as the COO of Goodman Campbell Brain and Spine, and the last 3.5 years as the VP of Neuroscience for Ascension St Vincent Indiana. I have been married to Mary Jeanine 'MJ' for 20 years, and we have a 17 year old son, Peter, and a 13 year old daughter, Lucy. We have two golden retrievers, Ernie (7 yrs) and Birdy (12 weeks!).
First, many thanks to Donna Bailer, our immediate past president, for doing such an amazing job last year and graciously spending as much time as needed with me to take on this role. I am also fortunate to have a very seasoned and hard-working board of directors that gets all the real work done. And finally, a big thank you to Melissa Klingberg, our administrator, who is the glue between committees and leadership from year to year as positions change. Thank you!
NERVES was established to help neurosurgery executives and administrators strengthen their practices. I would say, in recent years, this organization has helped us survive some of the craziest times in our lifetimes! And now, post Covid, NERVES continues to be incredibly valuable as we, more than ever, are all asked to accomplish more with less during the healthcare staffing crisis.
I hope you were able to join us in Marina Del Rey in April for the Annual Meeting. The location was spectacular, and the speakers and vendors were engaging. It was great to catch up with old friends and meet new members. The Annual Meeting committee is currently planning for our 2024 meeting to be held in Chicago and is set for May 1-3. Please mark your calendar – I hope you can join us.
Last week, the NERVES Board of Directors met in person to get a report from each committee chair and discuss key initiatives to keep NERVES relevant and helpful for our members. Here are some of the topics we covered:
How to continue to provide value to our existing membership in the post Covid era when staffing and budgets are tight?
How to appeal to new members when no one has time for one more thing in their day and society membership across every industry is declining?
How to improve participation in the NERVES survey when number of participants is vitally important to the validity and use of the data?
How to organize our membership committee to reach the greatest number of member prospects?
How to better integrate and gain support from AANS and CNS?
How to grow and inspire leaders within NERVES for the future of our society?
It was a great board discussion, and we will share the results soon.
I look forward to seeing you in Chicago. In the meantime, participate in our listserv – it is a great way to gain insight from our talented members. And watch for our educational webinars, which are free to members, and are loaded with helpful information on tough topics.
Hope you are enjoying your summer.
John Mueller
NERVES President, April 2023 - April 2024
Share this post: